The Bulk Editor allows you to modify multiple contacts at once rather than one contact at a time.
With the Bulk Editor you can:
Add and remove tags

Subscribe and unsubscribe contacts from lists

Add or remove contacts from automations

Update fields (Phone, Organization, and any custom fields you've created)
You might use the Bulk Editor to tag contacts who visited a product page of your website or add contacts to a follow-up automation after they clicked a certain link in an email campaign you sent so they can receive targeted follow-up.
How to edit multiple contacts with the Bulk Editor
To learn how to edit multiple contacts with the Bulk Editor, follow these steps:
1. Click "Contacts" located in the left side navigation menu.
'
2. Click the checkbox next to each contact you wish to edit.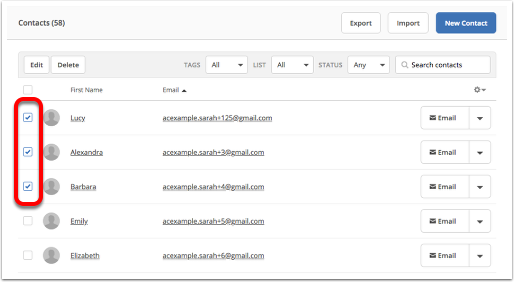 Note: If you wish to edit all contacts, click the "Edit All" button. This will automatically select all contacts.
3. After selecting the contacts you wish to edit, click the "Edit" button.
4. The Bulk Editor tool will open. Under the "Actions" box, click the edit option you wish to work with. You can select more than one action.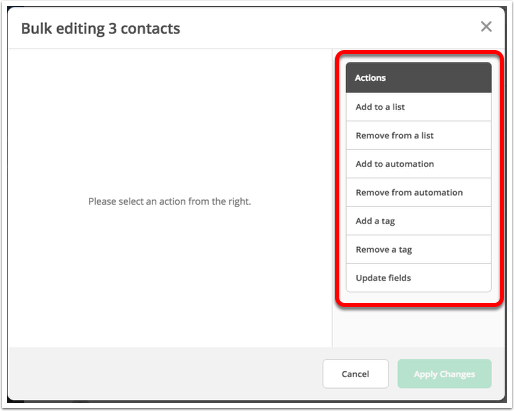 5. After selecting an edit option, a dropdown menu with a search bar will appear. You can either search for the item you wish to update, or you can select it from the dropdown list. In this example, we're going to choose "Add to automation."
6. Confirm the action by clicking the "Add to..." button.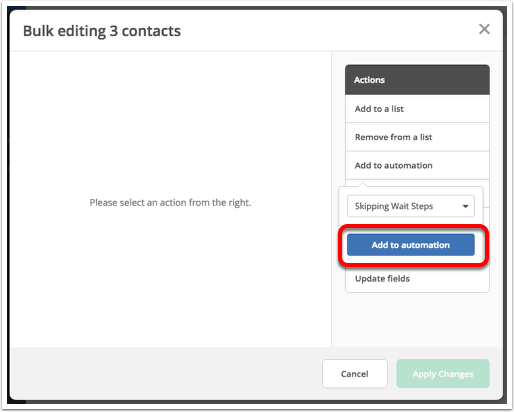 7. The bulk edit action will appear on the left side of the Bulk Editor. You can add more actions following the steps above if you need to.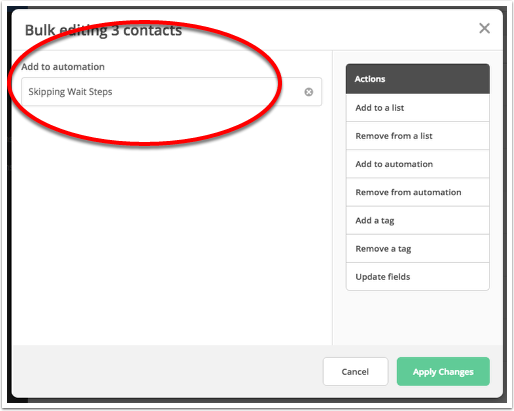 8. Click the "Apply Changes" button.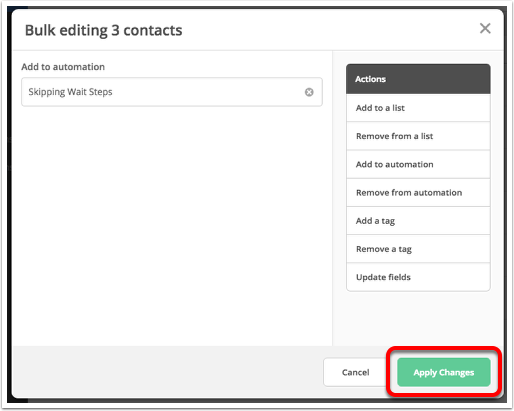 9. A confirmation message will appear. Click "Apply changes to X contacts."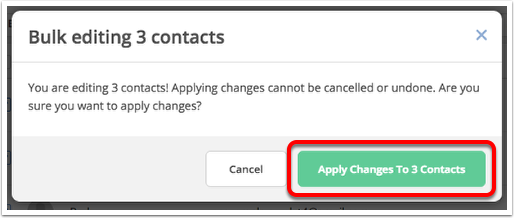 Any changes made to contacts with the Bulk Editor cannot be cancelled or undone.
10. Another confirmation message will appear letting you know that the selected contacts will be edited. Click "OK" to close the window.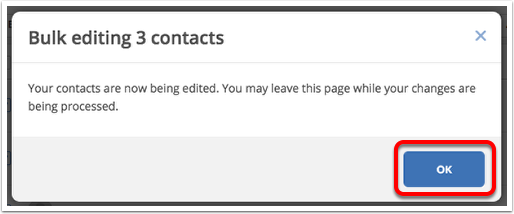 Depending on the number of contacts being edited, it may take a few minutes for the edits to finish processing. You can continue working in your account while this process completes.
Using the Bulk Editor with advanced search:
Advanced search and the Bulk Editor are two tools that you'll use together often. With advanced search, you are able to find very specific groups of contacts. Once you've found the group of contacts you want to modify, simply click "Edit All" to display the bulk editor and apply the desired changes to those contacts.