Personalizing a subject line with a contact's name or other information collected in a contact field can increase engagement with your communications.
You can insert personalization tags in the subject line of any campaign or automation email you create. When the email is sent to a contact, that tag will be replaced by a value specific to the recipient.
For example, if you wanted to insert a contact's first name in a subject line, you would use the following personalization tag:
%FIRSTNAME%
When a contact receives your email, they will see their own name populated.
To learn more about personalization tags and to view a list of standard tags, personalization tag.
To personalize a subject line, follow these steps:
1. From the campaign or automation email, click the gear icon.
2. Click the personalization icon.
3. Click the "Insert Field" dropdown and click the field you wish to insert.
In this example, we want to insert the first name personalization tag.
5. Click the "Insert" button.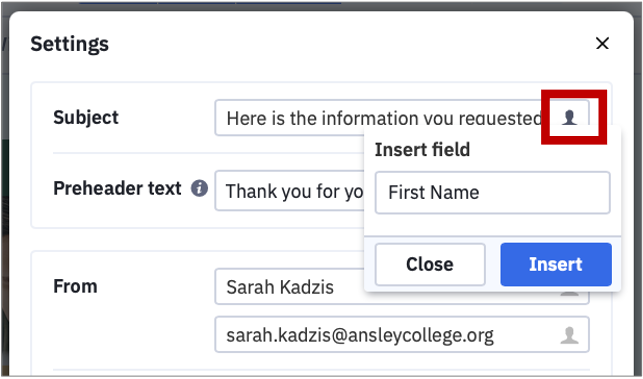 6. The tag will automatically be added to the end of the subject line. Click the "Close" button.
If you want to keep the tag at the end of your subject line, you'll want to add a space between the last word and the tag.
You can also cut and paste the tag so it appears in a different spot in your subject line: