You can easily create preheader text for your campaigns and automation emails using the preheader text editor. Adding preheader text to your communications offers contacts a sneak peek of what content to expect in your email. Not only can this help you stand out in a crowded inbox, but it can also help increase your open rate.
Note that preheader text is a term that is often used interchangeably with preview text.
In this article:
What is preheader (preview) text?
Preheader text is a snippet of text that is displayed in a contact's inbox after the subject line and is the first (or part of the first) line of text in your communication:
To customize the text displayed in the preview, you can use our Preheader Text Editor, located in the Campaign Settings modal.
Here is an example of an email with customized preheader text:
Preheader text will not be visible within the body of the email itself; it will only appear in the contact's inbox, either next to or underneath the email's subject line.
Preheader text is not available with one-to-one emails or plain text campaigns/automation emails (emails created using the "Text Only" option under "Build from Scratch").
Adding preheader text to campaigns and automation emails
1. Open your campaign or automation email.
2. From the email designer, click the gear icon.
3. The Campaign Summary modal will open. Type your desired text into the preheader text field.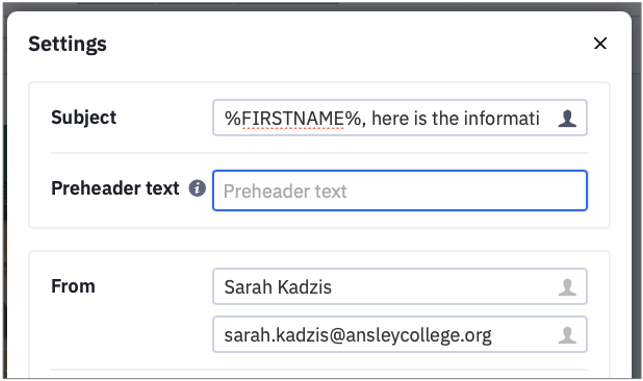 You can use emojis in the preheader text. To add contact- or deal-specific information to the preheader text, type the personalization tag you would like to use.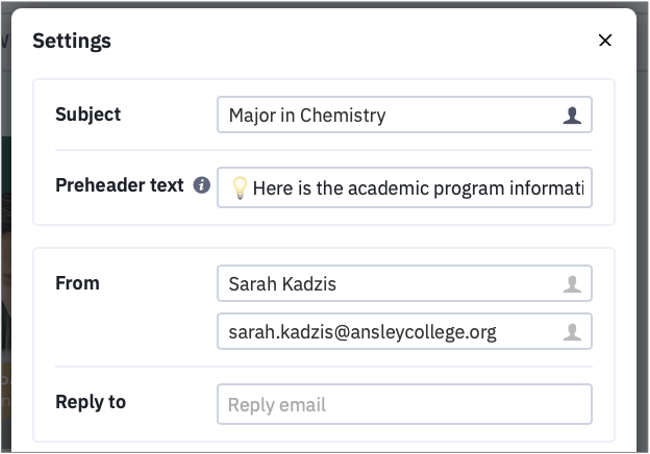 4. Click the "Close" button on the bottom right of the Campaign Settings modal.
If you've provided preheader text using both the preheader text editor and an html content block, both will be displayed in the contact's inbox. We recommend removing html content block containing your preheader text if you wish to use the preheader text editor.
Preheader best practices
Because each device and app is different, preheader text may not always be supported, for example, in some Outlook clients.
In addition, there is no character limit with creating preheader text. However, how much of the preheader text a contact will see in their inbox can depend on any of the following:
The device they're using to view their email inbox

Their email application

Width of their browser window (if they're accessing from a desktop computer)

Length of the subject line
Due to these constraints, it's best to keep the preheader text compelling, meaningful, and short (around 35-50 characters).
Click here to view preheader character counts from Litmus.
As always, we recommend testing your emails as much as possible before sending it out to your list so you can see how the preheader will look for your subscribe