Goals are a dynamic way of moving prospective students through nurturing campaigns at each stage of pre-enrollment. In this article, we cover the use of Goal actions to trigger automations, including:
Introduction
The "enrollment funnel" concept has long been used to model and measure the student decision process from initial interest to application and admission to enrollment yield. These stages provide milestones to forecast new student enrollment.
Within eduConverse, "Goals" represent movement toward enrollment.
For example:
Goal 1: Prospect

Goal 2: Inquiry

Goal 3: Apply

Goal 4: Admit

Goal 5: Confirm
For example, when a student "inquiry" applies for admission, goal number 3 (Apply) is achieved. The next goal would be to complete documentation requirements and meet institutional standards to be offered admission, or goal number 4 (Admit).
"Administrative automations" using Goals as the "trigger" move students into the appropriate message campaign automation aligned to their pre-enrollment stage.
Define your data queries
Start by defining the data query needed to create pre-enrollment goal segments. For example, defining an inquiry Goal may be:
Term is 202208, Student Type is FYR, and Stage is Inquiry
In the above example, the query statement identified freshman inquiries interested in fall 2022 enrollment.
Finally, identify the List table that includes your target audience (e.g., 00_Master_Prospective_Students, or 01_FTP_Students).
You will need to be able to identify this list this later in the process.
Create automation placeholders
Next, create automation "placeholders" that will ultimately be triggered by your enrollment Goal actions defined in the previous step.
Select Create an Automation.
Choose Start from Scratch and click Continue in the lower righthand corner of the screen.
Next, in the bottom righthand corner of the window, select Start without a Trigger. You will come back to this when you create the Administrative Goal Automation and define your Goal actions.
Finally, name your Automation. We suggest using a common syntax to easily organize and identify automations.
Create your own or adapt our best practice naming syntax for pre-enrollment campaign automations:
Semester initial, two-digit academic year_student type, 
two-digit enrollment stage_short description
Examples:
F22_TR02_Applicants - Fall 2022, transfer applicants

WTR22_FR03_Admits - Winter 2022, freshman admitted students

F23_FR01_Inquiries - Fall 2023, freshman inquiries (current high school juniors)

WTR22_GR02_Applicants - Fall 2022, graduate student applicants
If you have already planned your campaign Automation, then great! Add your actions, including sending, conditions, contacts, and CRM-related ones. If not, you don't need to populate the Trigger or Actions within the Automation at this stage.
At a minimum, you merely need an automation placeholder to use within your Administrative Goal Automation.
Components of an Administrative Goal Automation
An Administrative (Admin) Goal Automation includes the following "actions:"
Triggers
The "Trigger" is what activates the automation to process planned actions. For an Admin Goal Automation used for admissions, the "trigger" is when a Contact subscribes to a list, such as your Master Prospective Student List.
Enrollment Segment Goals
A Goal action includes "conditions," that define when a contact should move, or "jump" to this action. These Goals are dynamic, moving prospective students through the enrollment funnel.
An "Infinity" Goal
An Infinity Goal is a Goal action that keeps prospective students in an enrollment term. This action is added to the end of your Admin Goal Automation.
End another automation
The End Another Automation, or "Exit automation" action defines conditions for contacts to exit one campaign automation and enter another. This action is added after Enrollment Segment Goals.
End this automation
The End this Automation is added after the "Infinity Goal."
As a best practice, create an Admin Goal Automation for each enrollment term (e.g. Fall 2022, Spring 2022, Summer 2022). where you plan on launching campaign automations.
Create an Administrative Goal Automation
From the Automations menu, click Automations and Create an Automation.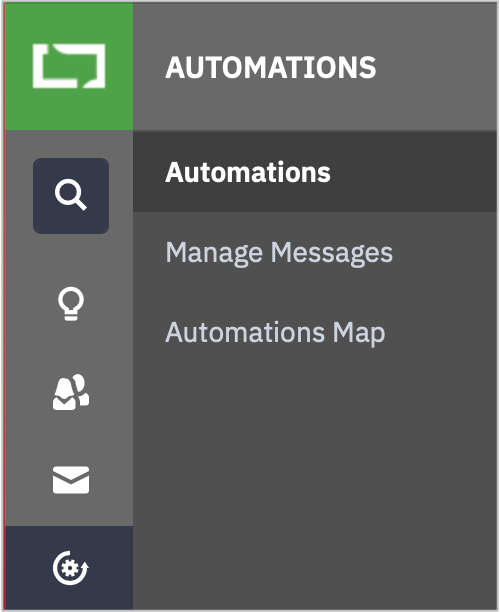 Select the Start from Scratch option and click Continue.
From the Select a Trigger window, select Goal is achieved as your Automation's triggering condition.
Name your Administrative Automation for the enrollment period you are targeting as follows:
Admin: F22_FR_Enrollment Funnel (Fall 2022 Freshman Enrollment Funnel)

Admin: F22_OL_Enrollment Funnel (Fall 2022 Online Student Enrollment Funnel)

Admin: WTR22_TR_Enrollment Funnel (Winter 2022 Transfer Enrollment Funnel)
Select the corresponding list for the Start trigger: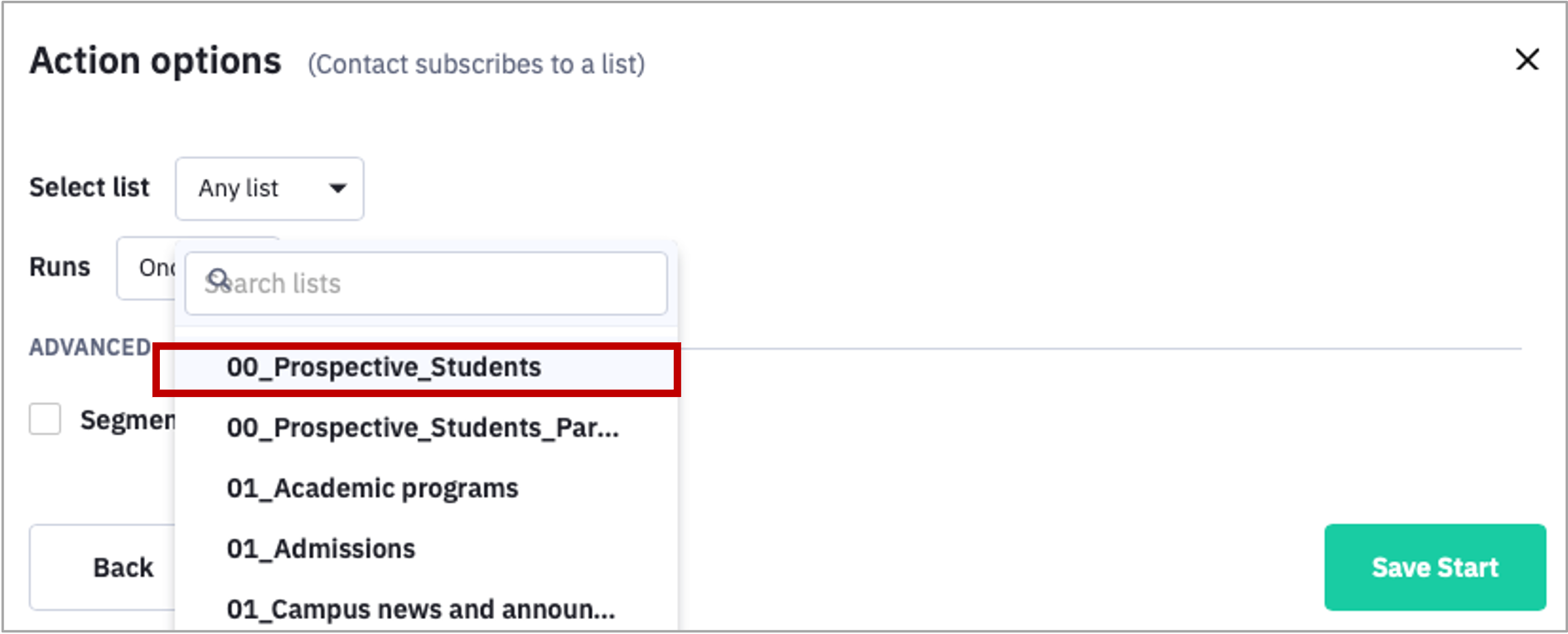 Next, create your first enrollment Goal action by adding it to the Automation canvas.
In the Actions menu, click the dropdown arrow for Conditions and Workflow to reveal the Goal action. Drag the action to the Automation canvas and connect it to the + sign icon.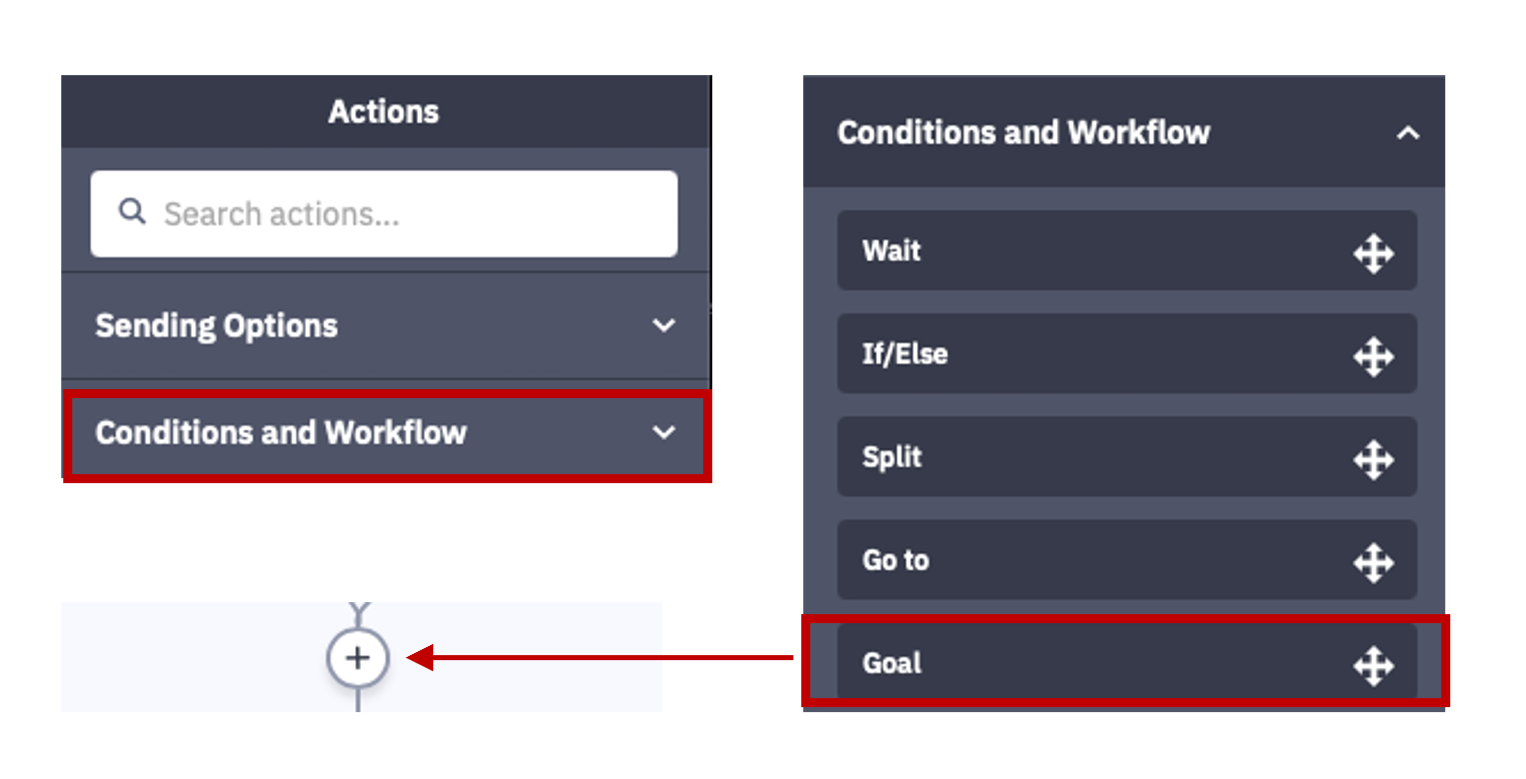 Click the Goal action on the canvas to open the Goal window. Name the Goal using the syntax defined above (e.g., F22_TR01_Inquiry).
Within this Goal action, you will define the conditions that must be met by a prospective student to reach this stage in your enrollment funnel. The student may be "converted" from membership in your "prospect" list, or added organically from sources such as web form inquiries, fair attendance, or campus event, to name a few.
Under Jump to this action when the goal conditions are met, click Click to add a goal.
The Goal Editor window will open.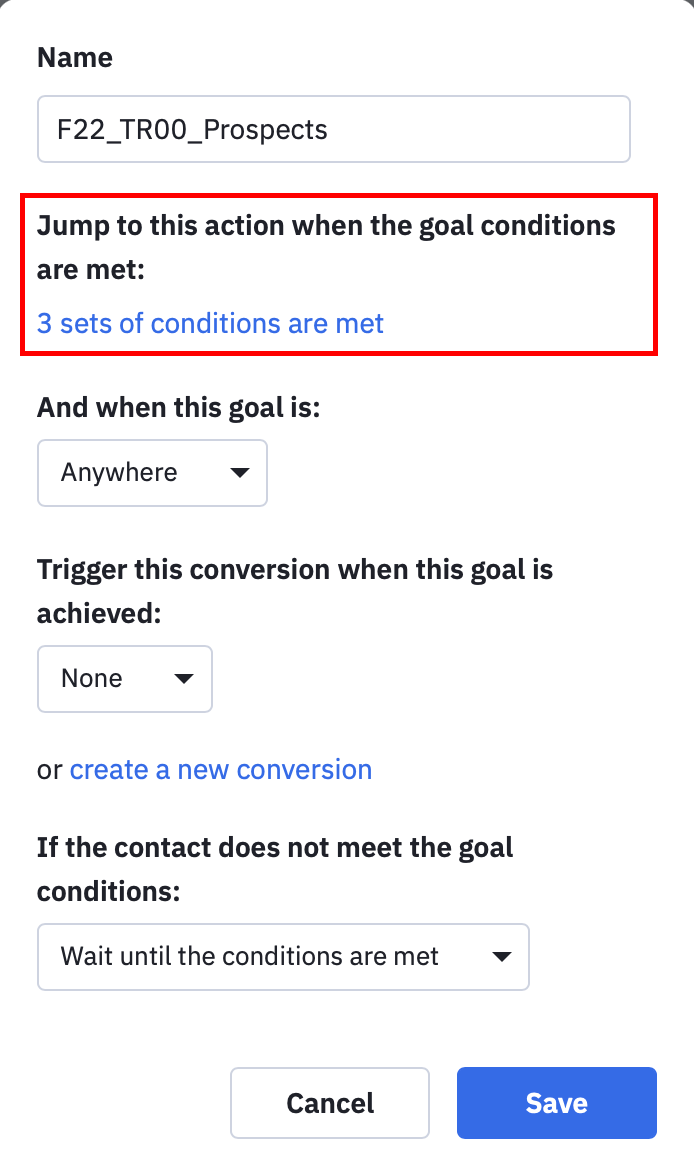 Add in the conditions to define membership for this goal.
For example, if the targeted enrollment stage is transfer students who are interested in fall 2022 enrollment, then the conditions may include:

Because we are actively building out the Administrative Goal Automation, add in a "false" condition.
The "false condition" needs to be something non-sensical that could not occur within your data set. For example, First Name is False Condition.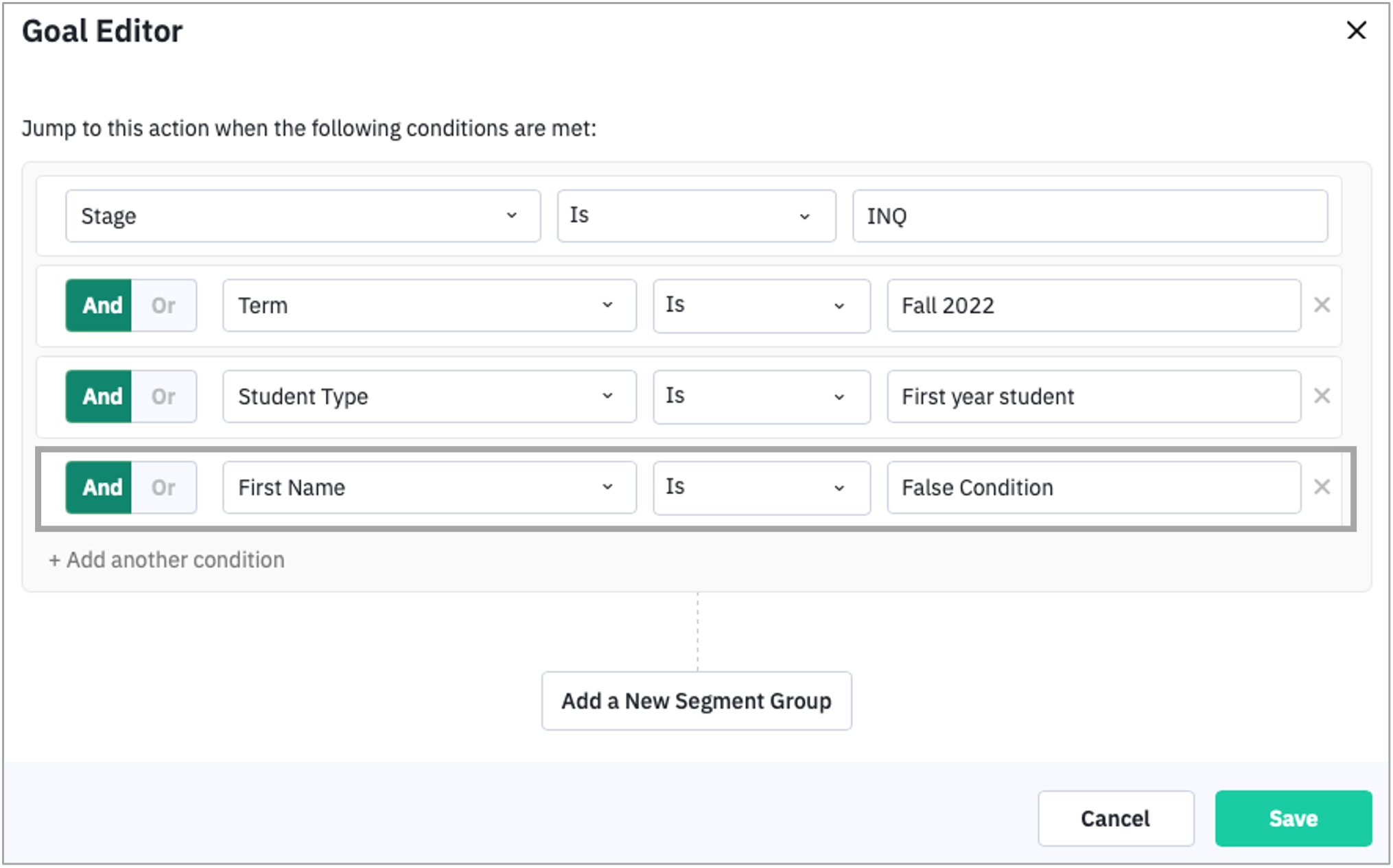 By using the False Condition, you can wait to "release" the Goal Action and trigger a new (active) campaign automation.
Keep in mind that you can add Goal actions to your Administrative Goal Automation at any time.
Next, add conditions for contacts to exit the previous campaign automation. For example, if you have "prospects" from Phi Theta Kappa connect (transfer student data) and one of these students becomes an "inquiry" by attending one of your events, or by making additional contact with your institution.
To move the contact out of the transfer prospect campaign automation (e.g. F22_TR00_Prospect) and into your transfer inquiry automation (e.g. F22_TR01_Inquiry), add an End an automation action after the Enrollment Segment Goal, F22_TR01_Inquiry.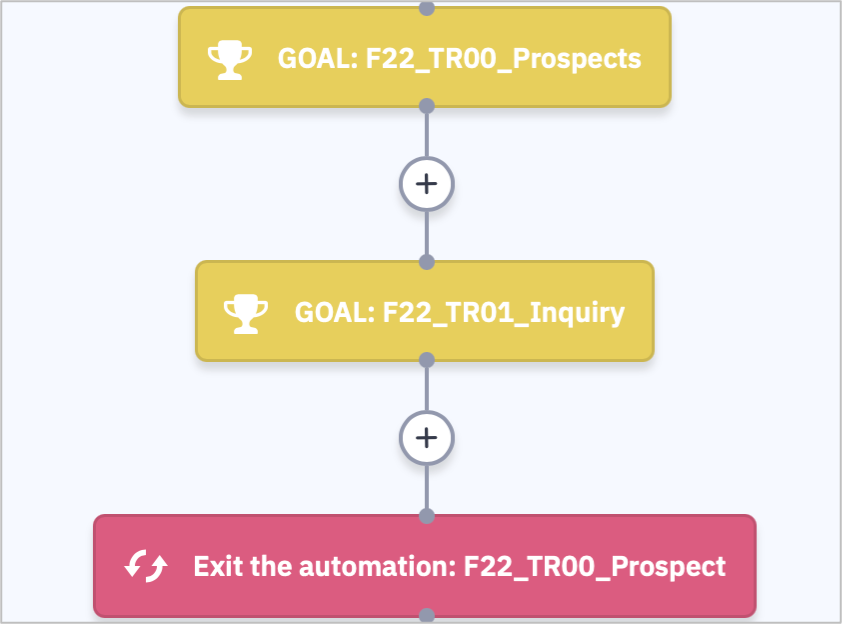 Select the campaign automation to move the contact out of when they achieve the enrollment goal, Transfer inquiry.
Repeat these steps to additional enrollment goal segments.
Finally, add an "Infinity Goal" and End this Automation Action.
The "Infinity Goal" is a Goal action that serves to keep your prospective students interested in an enrollment term active for campaigns. This allows you to go into the Admin Goal Automation and add additional "Goals" at any time.
For example, you want to send a small, ad-hoc campaign automation to admitted students. Simply add in a new Goal condition to identify these students and use this "Goal" to trigger your ad-hoc campaign.
Add the "Infinity" Goal action with the following settings:
Jump to this action when the goal conditions are met: first name is Infinity Condition
And when this goal is: Anywhere
Trigger this conversion when this goal is achieved: None
If the contact does not meet the goal conditions: Wait until these conditions are met
If you need help walking through the Admin Goal Automation set up, let us know!
For more information, see the Help article, How to initially launch an administrative goal automation.