The Calendar Feed features allows you to sync eduCRM tasks with your Google Calendar client.
Step 1: Create a Calendar Feed
Calendar feeds can be configured to show:
Tasks attached to contacts within a pipeline (deals)
Tasks attached to contacts
Tasks attached to deals and tasks attached to contacts
Tasks for task owners (Visible to account admins only)
In this section, we'll show you how to create a calendar feed that you can then add to your calendar.
Click "Settings" located in the left side menu.
Click "Calendar."
Click the "Add a new calendar" button.
The "Add Calendar" modal will appear. Type the name of the calendar into the field provided.
Click the "Tasks" dropdown to select the type of tasks you wish to sync to your calendar. You can select from the following:

All: Will sync tasks associated with pipelines and contacts
Deals: Will sync tasks associated with contacts in a pipeline only
Contacts: Will sync tasks associated with contacts only.

Select the pipeline(s) that you want to see tasks for. You can select one, several, or all pipelines by clicking the appropriate checkboxes.

If you are an account admin, you will see a "Task Owners" section. Your own name will automatically be selected and will be grayed out. This means that this calendar feed will include your tasks. This cannot be changed. In addition, you can check the box next to each name you wish to display tasks for. These tasks will be displayed in your calendar in addition to your own tasks.

Note: If you are not an account admin, you will not see the "Tasks Owners" section.

Check the "Include Alerts" box if you want task alerts to be sent to you. Any alerts you have created for your tasks will be created as calendar alerts in your calendar client.

Click the "Add" button. The calendar feed URL will be listed on the Calendar page in your account
Step 2: Add your Calendar Feed to your calendar client
Click "Deals" > "Calendar" on the left menu.
Copy your calendar feed URL.
Once you've copied the calendar link, login to Google calendar:
Click the gear icon to access the calendar settings
Click "Add calendar" then "From URL"
Paste the Calendar feed URL into the text box, then click "Add calendar"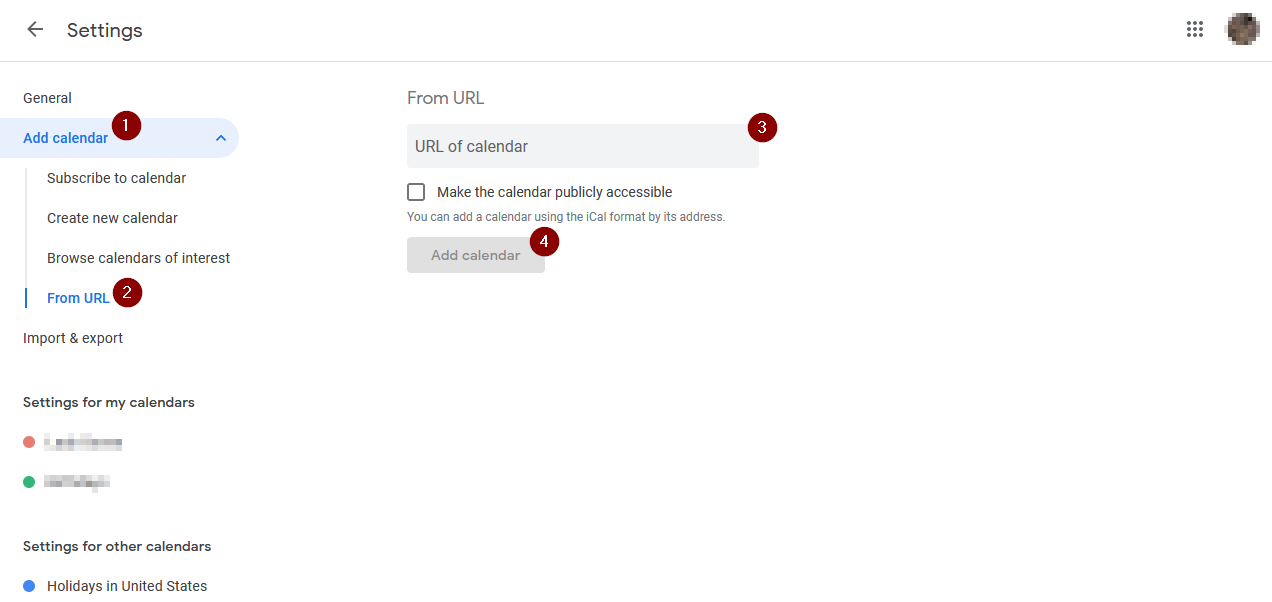 Account admins: Once you have added the Calendar URL to your calendar client, all tasks not marked as complete will display in your calendar.
All other account users: If you are not an account admin, then you will only see tasks assigned to you that are not marked as complete.