The API is used to enable integrations between your eduConverse account and 3rd party services or a custom interface you created.
What is an API?
API is short for Application Programming Interface and it allows for one application to talk to another. We recommend using the API for any functionality needed outside of the main user interface, such as enabling an integration.
How to obtain your ActiveCampaign API URL and Key
In order to enable an integration between your eduConverse account and a 3rd party application, you will need to first obtain your API URL and Key.
The API URL and Key can be thought of as your username and password to your account. When you give this information to a 3rd party application, they will be able to access your account to sync information or perform other tasks.
Each user in your account has their own API URL and Key.
To obtain your API URL and Key, follow these steps:
1. Click the "Settings" option located in the left side navigation menu.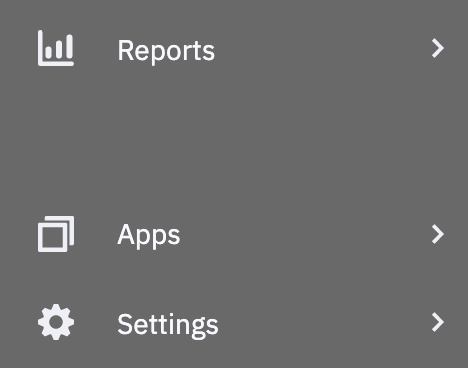 2. The Account Settings menu will appear. Click the "Developer" option.
The Developer Settings page will load and will display your API URL and Key. You can copy and paste this information into your 3rd party application.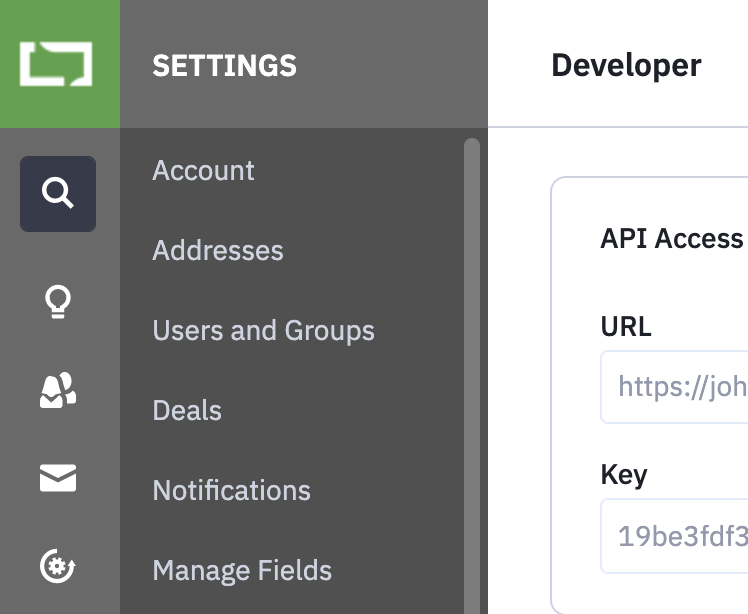 How to reset your API information
In the event that your API information has been compromised, you can reset your key.
To reset your API information, click the "Reset" button located on the Developer Settings page in your account.
A confirmation window will appear. Click "Reset API Key" to confirm the change.
Note that you will need to update all 3rd party applications with your new API information.
API for Developers
With the API, you can sync contact information, view contact information, add contacts to automations, create and send campaigns, and much much more.
Our API is structured around REST, HTTP, and JSON and requires basic authentication (actual user account within the software or a valid API URL and Key).
Access the ActiveCampaign Developer portal.
In order to work with our API, you'll need the following:
A valid account (a trial version will also work).

Experience with creating custom-coded solutions and/or integration with REST APIs.

Ability to submit HTTP requests from your server.
We provide a list of available API methods along with detailed descriptions of each parameter, as well as examples in actual code. Our community forum is a great resource as you're learning how the API works.
Troubleshooting the API for Developers
If you are receiving script errors, missing data, or anything prohibiting you from fully using the API, please contact our support team and provide the following information:
Full API request URL (including all parameters)

If it's a POST request, your POST data

The expected response/action

The actual response received from the server, and action performed (if any)
Please note that while we'll do our best to help you troubleshoot your API issues, this can provide certain challenges. This is because it's not possible for us to see what is happening with your application, script, or environment.
If you have a more general question (such as how a specific API method works or why a specific API is not returning data), we recommend posting the issue in our user forum where it is documented publicly so other users can help, share their own experiences, and help future users learn from past experiences.